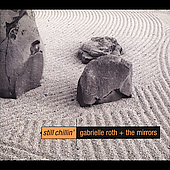 Gabrielle Roth • Raven Recording • Mar 2005
Gabrielle Roth & The Mirrors are back with more of their trademark gentle grooves with a deep, sesuous ambience. Instrumentation includes synth, fretless bass, electronic drums, concert tom, tone box, pony drum, harmonica, thumb piano and much more.
Featuring: Personnel: Allison Cornell (vocals, viola); Mindy Jostyn, Laur Fugere, Sara Carlson, Catherine Russell (vocals); Morgan Doctor (harmonica, percussion); Dave Robbins, Harvey Jones, Hans Li (synthesizer); Dassi Rosenkrantz-Cabo (fretless bass); Joe Bonadio (electronic drums); Robert Ansell, Bob Weiner, Sanga Of The Valley (percussion).
Arranger: Gabrielle Roth.