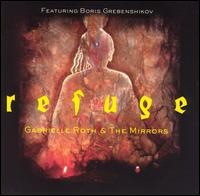 Gabrielle Roth • Raven Recording • May 1998
Russian chants with analogue synthesizer.
All of the royalties from the sale of REFUGE are being donated to various Tibetan Buddhist causes.
Proving once again that they are incapable of making the same album twice, Gabrielle Roth & The Mirrors here fuse their instrumentals to the Russian-accented Tibetan chants of Boris Grebenshikov. The mix is surprisingly effective. Grebenshikov's voice is tenderly gruff, rendering the traditional material, normally the domain of lamas and monks, accessible to the lay person.
The tracks range from the short, whispered "Seven Line Prayer," to the 13-minute "Vajra Guru." In common with other Western forays into Tibetan music, all royalties from the album have been donated to Tibetan Buddhist causes.
In his first collaboration with Gabrielle Roth, legendary Russian rocker Boris Grebenshikov adds in the sounds of Tibetan monks, layered over the top of Roth's rumbling world beat percussion.
Gabrielle Roth & The Mirrors: Gabriel Roth; Boris Grebenshikov (vocals, synthesizer); Allison Cornell (vocals, violin, viola); Mindy Jostyn, Catherine Russell, Sahaj Ticotin (vocals); Bob Een (cello); Erik Lawrence (flute); Chris Botti (trumpet); Harvey Jones (synthesizer); David Rosenberg (drums); Gordy Ryan, Sanga Of The Valley, Joe Bonadio (percussion).
Producers: Gabrielle Roth, Robert Ansell, Scott Ansell.